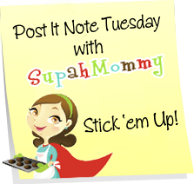 Today's post it note rants are courtesy of our local youth baseball program!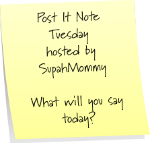 AHHH I feel better now. Now maybe Wednesday I won't take my frustration at the whole thing out on my husband....maybe!
OMG, a commenter pointed out this is timely if you watch the show Drop Dead Diva, which I DO. But while I promise I won't be punching anyone, I can totally understand how that mom felt (ok its TV, I know she was acting). People who know me know that I AM a realist, I am not a totally delusional mom who thinks I have an MLB player on my hands. But my kid is easily one of the top 3 players on the team but despite the fact that my husband is the assistant coach and the coach has pretty much had him do ALL the work, he continues to crap on my oldest son! Timmy and ONE other kid expressed the desire to catch at the first game, and inning after inning guess who is NOT been allowed to catch. He's typically playing outfield and when he is brought in some and other ball hogs get in his way and then drop the wall, they are cheered for their effort. Its painfully obvious that this coach for whatever reason does not care for my kids! We are honestly torn at this point about completing the season and I know I don't do the situation justice here, but I think its best depicted by an incident at practice when they were doing batting practice. Every kid got a turn at bat and then the coach began to switch gears, when my husband asks if Timmy was going to get a turn to bat, the coach simply said "no" and moved on. No explanation at all. So yeah I'm totally feeling the (fictional) lady who used self difference as legal defense after being sued for punching a coach in the face who was being crappy to her daughter.