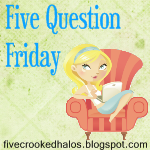 Some getting to know you fun from Five Crooked Halos....
1. Did you have a favorite blanket or toy as a kid? If so, do you still have it?
I had a satin trimmed blanket named GiGi (pronounced gee gee). It went everywhere but surprisingly held together very well. My mom replaced the trim MANY times but the blanket itself held together, not like the wooby from Mr Mom. It is in a box...somewhere...in my stuff.
2. Do you dream in color?
I have no idea. I only remember maybe one or two dreams a year.
3. How tall are you? Do you wish you were shorter or taller?
I'm 5' 11 4/4" yeah that's my story and I'm sticking too it. Don't do the math. You'll convince yourself that it actually equals 6' but that's wrong. I promise! :) I have no idea why I have a hang up about my height but I do. Maybe in part because my husband is 5' 7"...
4. If you could have anyone's (celeb or other) voice as the guide on your GPS, who would it be?
I don't think I could have come up with an answer for this if it weren't for
Dawn's
answer. I had never even heard of havign voice options before. But that could be so much fun. I don't think I'd like Ozzy tho, I can't understand him most of the time unless he's yelling.... SHARON! So I am going to say something like Tim Allen, as Buzz Lightyear. "Make a right at the next street...proceed To Infinity AND BEYOND!" Yea, I'm a dork, I know
5. Do you return your shopping cart to the corral or leave it wherever in the parking lot?
I almost always return it. It has to be super nasty, like one day last winter where the lot hadn't been cleared and it took all my might to get it to my van. I knew it clearly wasn't going to move and very few people were out in that mess so I got it safely out of the way but not back to the corral. Otherwise, yes I return them, its a huge pet peeve of mine.