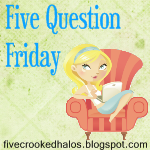 1. Have you ever visited another country?
I have visited Canada (which was not a fun trip because I was 13 and on a senior citizens trip). I've been into Mexico a few times but just into border towns never into the beautiful touristy parts. And I've been to several of the Virgin Islands on a Cruise. This is something I'd love to do again. I was about 15 when I went and it was a great trip but I don't think I really appreciated the beauty of it all then.
2. Where is the strangest place you have ever been?
The strangest place I've been...hmm, I don't know if it was really 'strange' but one of the most uncomfortable places I've ever been was in a friend of a friends room, with a pot belly pig running around and two huge tanks with snakes in them all in a tiny room. I could NOT wait to get out of there. (No offense to pot belly fans but this thing did not seem friendly at all and was MAD when I went to the bathroom because apparently he "owned" that room.)
3. What is your favorite season?
FALL! I can't wait for it. I love sweatshirt weather, and the colors and jumping in leaves and hayrides, and pumpkin farms and apple cider donuts.
4. What one song will always cheer you up?
Oh my gosh, I LOVE music so there is sooo much that will cheer me up. I love a ton of the current pop stuff. Just yesterday I was forgetting the outrageous heat with the a/c cranked and jamming to songs like I make the good girls go bad and I've Got a Feeling. But I also love 80s stuff for when I need a pick me up, anything Madonna can cheer me up and lately I've been listening to a lot of the stuff I used to listen to with my mom which sorta of cheers me up and sorta makes me miss her more. Those are a lot of soundtracks like Footloose, Top Gun and Dirty Dancing.
5. What Disney character do you resemble most?
Most resemble? Hmmm I think I'm shaped like Baloo (that's the bear from Jungle Book, right?). But personality wise, lately I think I feel like Donald Duck, no one seems to get what I'm saying and I'm short tempered.
Be sure to stop click the Five Question Friday icon above to play along too! And have a good Friday the 13th!!!!