I have to admit, I'm not always the best at sensoring the music my kids listen to. The other day, whilst stuck in traffic home from Milwaukee I caught myself jamming to an old favorite of mine and realized the lyrics where HUGELY inappropriate for my 6 and 7 year old to be listening to...luckily they weren't paying close attention and while I'm sure they heard it, they didn't question us on it at least. But I try not to beat myself up, because really even songs we don't think about have parts that are questionable...while listening to the light station one day my oldest asked me to please change the station because the song was not a good one for him to listen to. The song...Copacabana!!
Of course, we could always chose to listen to nothing but kids music. I mean who wouldn't like to live with Barney and The Wiggles 24/7? Oh yeah, that'd be ME! I DO like to let my kids hear stuff they like and tolerate some Yo Gabba Gabba and Wiggles from time to time. But nothing is better than really fun, GOOD music that is totally kid friendly. And that's just what we found with The Rattles. The second the CD started Bryan started dancing!
Paula Sartorius
is a 20+ year veteran of the music business. As an artist manager, she played a key role in the development and success of recording artists such as Los Lobos, Luscious Jackson, Vertical Horizon, Paula Abdul, John Hiatt and Rosanne Cash. She was instrumental in launching retailer Amoeba Music's record label, Amoeba records. Paula is the Executive Music Producer of The Rattles.
As producer and web designer,
Becky Hession
been instrumental in the development of The Rattles Band. She has played a hands-on role, assisting with character design, animation and post-production, as well as overseeing the creative team and designing/developing RattlesRock.com. She brings 5+ years of experience in animation and web design production to the property. Becky has worked on numerous high-profile licensed character projects at the award-winning studio DMA Animation.
New Yorker Michael LaMorte and UK native Mike Williams wrote, recorded and produced the music for The Rattles. After knowing each other from the NY music scene, (they were respectively members of the bands mini-king and Nancy Boy), they initially performed together as the touring rhythm section for EMI artist Astaire. Their first studio collaboration was a remix of the classic What's Going On for a Marvin Gaye biopic. They compose and record music for film, TV, ads and corporate videos.
When they're not working together, Michael performs as Miguelito LaMorte, a Latin infused pop collaboration with Chino Nunez of the Spanish Harlem Orchestra. Mike is the drummer for the band Goodfinger. He produced their latest album, which was mixed by Tim O'Heir (All American Rejects, Sebadoh, StellaStarr*) and Andy Chase (Ivy, Tahiti-80, and Juliana Hatfield).
I really think that the animated band adds to the fun. I had to share the detailed intros of all the band members from their
website
. And check them out on
Facebook
to keep up to date with the latest news.
Kitty~Drums
Kitty plays drums and likes the fact that she is one of only a few girls who does, and she rocks out!
Playful and spunky, Kitty likes to be the center of attention and is the band member most likely to stick her tongue out at the camera just for fun.
Kitty is from New York City, and she will let you know it if you ask her... and maybe even if you don't!
If Kitty had her way, she would sing more songs.
Gus~Lead Singer
Gus loves being the lead singer.
Gus hails from a small town in the mountains of Colorado. He loves to snowboard and skateboard. He talks about his 'buds' back home all the time.
Like most singers, he strongly believes that world revolves around him. Gus has no problem suggesting to other band members how certain songs should be played, or showing them how it's done.
Needless to say, the band members don't always appreciate his input.
Even though he only has four fingers on his webbed hands, Sal plays a mean guitar.
Sal was born in Florida, the Sunshine State, so he hates to be cold.
When things get a little crazy, Sal likes to vanish into thin air — now you see him, now you don't — but he's always there for the band when they need him.
Sal and Hal go way back to the days when they were in the band "Swamp Mud" together.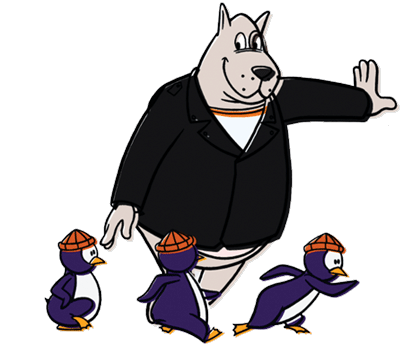 The soul of the band, Hal lays down the groove and is the foundation of The Rattles. He keeps it all together.
A transplant from Florida to New Orleans, Hal is laid back and easy-going. He is the band member most likely to be late for a gig.
Hal and Sal have been BPPF's (Best Pond Pals Forever) since their early days back in Florida.
Benny
Band Manager
Benny the Band Manager looks gruff, be he's really a big softie.
Benny used to be a roadie for all the big bands and boy does he have stories! The problem is...he likes to tell the same ones over and over again. He keeps everyone in line, getting the band to the gigs on time and helping the crew of roadies to set up and break down shows. Benny drives the band to each show in the tour van "Sweet Pea."
Think of Benny as the band's Den Mother — who needs a shave.
The roadies (all named Elvis) are always getting into mischief!
These lovable birds are constantly after a good snack; so much so that they are easily distracted by anything that resembles food.
They help Benny load and unload the van, set up backstage and break down shows.
If you hear a loud crash backstage, you know the roadies are hard at work.
Reliable transport, but sometimes she needs a gentle nudge to get her going.
Sweet Pea was Benny's van in college and she has become an honorary member of The Rattles Band.
Sweet Pea gets a bumper sticker from every town they play.
Do The Rattles sound like something your family would enjoy?? Enter now to win this CD I have to giveaway.
Giveaway Rules
Required Entry:
Visit
The Rattles website
and come back and leave a comment sharing one fun thing you found at the site.
Additional entries: (Extra entries are only valid after completing the required entry. Be sure to leave a separate comment for each entry)
~Follow me publicly on google friend connect - 1 entry
~Subscribe by email (must activate) - 2 entries
~Tweet the giveaway- may be done once daily, include @lisanoel03 @TheRattlesBand and a link to this post - 1 entry (leave direct url to tweet
~Post my button on your blog (make sure it's my NEW button) - 2 entries
~Blog about the giveaway - 3 entries (leave link and 3 comments)
~Enter any of my other current giveaways (listed at the top of my page) - 1 entry per giveaway

No longer available for entries because of their regulations but this additional support helps me gain more great giveaways in the future.
~'Like'
my blog
on FaceBook
**Winner will be added to this post when selected**
12. karenmed409 said...

following you on twitter as karenmed409
Please be sure that I have a way to contact you either with a email available on your blogger account or leave your email in your comment. If I can not contact you via email, or you do not respond with in approx. 48 hours to my email, I have to pick a new winner. And I really hate doing that!

Disclosure:

The product(s) featured in this review was provided free of cost to me for the sole purpose of product testing and review. This review has not been monetarily compensated and is based on the views and opinions of my family and/or self. Please note that the opinions reflected in this post have not been influenced by the sponsor in any way.