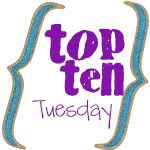 The lovely Jill posted today in her Top Ten Tuesday about her can't wait to watch fall tv lineup and first of all I have to say she has GREAT taste, because I'm with her on most of the list. So I hope she won't mind if I steal, I mean borrow her list idea.
Stop by and check her out if you haven't before.

Here's my list, in no particular order...
Grey's Anatomy: I've been in love with Grey's Anatomy since day one despite how Meredith makes me crazy, I think I'm still recovering from my 19080s crush on Patrick Dempsey, who is the classic evidence of things getting better with age! Even though I have to ask my husband at least 10 time an episode "is it done?" when the gross medical stuff is shown, I can't stop watching it. (And yes I know its fake, it doesn't' matter it still makes me sick to my stomach.) (Premiers 9/23)
Hell's Kitchen: I am not sure why I am so in love with this show since I really do NOT like cooking. But I think its all about Gordon Ramsey. I LOVE him! I probably wouldn't eat a thing he cooks, it's all too fancy for my burger and fries taste but there's something about him that IS tasty!(Premiers 9/22)
Parenthood: If you have not watched this show, I seriously suggest giving it TWO watches. And I say two because the first one took some processing for me. I was expecting more of a comedy and while there are some giggles to be had this is really more of a heartfelt show. I had shed more than a few tears as this show touches home with its very honest portrayals of every aspect of family life. (Premiers 9/14)
Castle: I just discovered Castle reruns in the office season and am wondering where I've been. First of all Castle is just nice to look at but I also love a good quality cop show that isn't totally predictable. All to often I watch Law and Order or the like and can tell you "who done it" in the first 5 minutes. Sometimes this is because it is a "ripped from the headlines" episode, but sometimes its just because it was simply too predictable. I love a show that really keeps me guessing. (Premiers 9/20)
The Good Wife: Another good drama that I think does a great job of balancing the drama with their careers and corruption etc with the family side of things. A great show with a strong female lead who isn't shown as total emotional train wreck. (Premiers 9/28)
Modern Family: This show is totally ridiculous much of the time but totally funny too. We all have some weirdness in our families but this show includes just about every cliche out there, but it works and keeps me laughing the whole time. (Premiers 9/22)
Rookie Blue:

This show has already started and I'm hooked. To me it has the same feel as Grey's did in the beginning. And who didn't love that, right? (season already started)

Glee: Another show that I caught on to late, catching just the last episode of last season. I don't think I'd consider myself a full fledged Gleek, as I enjoy the music but have to admit that I actually enjoy the story lines which many people think are horrible. (Premiers 9/21)
Private Practice: I think Private Practice has actually been successful in creating a great spin-off and honestly I think many weeks Private Practice pulls off a better show than Grey's Anatomy. I love the tough topics it's hit and how it's handled them.(Premiers 9/23)
Cougar Town: As a forever fan of Friends, I tuned into Cougar Town because of Courtney Cox but was thrilled with this show. It can be pretty trashy, so consider yourself warned but I think it is HYSTERICAL! I think it is one of the best cast mixes I've seen in a long time. (Premiers 9/22)
American Idol:

Yup, I'm cheating! It's not actually coming back until 2011 so its not a fall show. But I had to include it because of all the changes coming. I'm not at all convinced I'll stick with the show now that Simon is gone but I will be tuning in to see how things go with the new judges. To date I believe that Randy Jackson is the only returning judge and that Steven Tyler is the only confirmed addition. I know I might be in the minority here but while I love Aerosmith's music Steven Tyler is NOT someone I want to look at...ever! But I am interested to see what he's like as a judge and am anxiously waiting to hear whoelse is added.