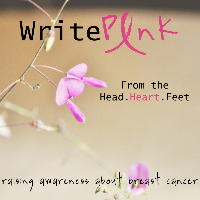 It's October and that means Breast Cancer Awareness month. While I obviously believe that this is something we should be thinking about every month and I am support research for a cure to ALL types of cancer, today I AM going to ask you to join me in making a difference in the fight against Breast Cancer.
I realize it is only one of a staggering number of types of cancer with many being considered 'worse' because of their lessor survival. But the fact is that breast cancer affect a LOT of women (and even some men), 1 in 8 in fact! It is a far reaching cancer that affects way to many families. It is my hope that all the is learned through the research done for a cure for breast cancer will in some way help the research for other types as well.
So this October, I'm asking that you go beyond buying that pink ribbon. I'm asking you to join ME in the Army of Women. But joining this Army you'll be informed of many studies that are being conducted on both those who have had breast cancer AND those who have not, in an effort to learn more about this terrible disease.
Uncle Sam has been looking for a few good men for decades but now the Love/Avon Army of Women is looking for a "few" good women! Won't you make a difference by signing up and being part of an effort to grow the Army to a million strong?
It's Easy to Join the Army of Women:
Register as a volunteer with the Love/Avon Army of Women. By registering, you are indicating your interest in learning about active research studies in need of volunteers.
You will receive email updates from the Love/Avon Army of Women announcing new research studies looking for volunteers just like you. The email will detail the research project and who and what the researchers need. If you fit the criteria and you'd like to participate, all you need to do is click "Yes Sign Me Up", this lets us know you've accepted our "Call to Action". From there, you will be asked to log-in to your account and then directed to the next steps.

If you accept the Call to Action by clicking "Yes, Sign Me Up", you will be asked a couple of screening questions to make sure you qualify for the study. Once we confirm your qualification for the specific study, your information will be given to the researcher conducting the study and you will be contacted by the researcher for a secondary screening to make sure you meet the study criteria and answer any questions you might have about study participation. You will never be pressured to take part in any study. The decision to take part is yours — and yours alone.

If you meet the study criteria as determined by the researcher and are interested in taking part, the study researcher will let you know what you need to do next.
If you're new to my blog you can read up on our families experience with breast cancer as we lost my mom after three battles against the disease by reading my old post here.