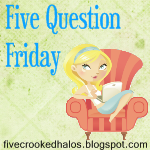 Join in the Five Question Friday fun by clicking the button above and linking up with Mama M.
1.
Have you worn the same outfit more than one day in a row?
Yes. I am often known to stay in my pj's all weekend if we have nothing going on. Which I must admit is very rare these days. And if I have a dressy occasion that is short and I actually don't get anything on my clothes, I totally rehang my outfit for another wear!
2.
If you had to choose any LARGE city to live in, which would it be?
Well, I live in the far suburbs of Chicago which is as close to city living as I really ever wish to get. BUT if I had to live IN a city I'd probably consider Milwaukee or Denver. I've never been in Denver but its just the only other area of the country I think I'd consider moving. While I'm not a fan of the cold and snow for months on end here, the weather occurrences in other parts of the country scare the heck out of me.
3.
Fly or drive with the kids on vacation?
Can I choice teleportation? That would be my ideal, so if someone could work on that for me we'd probably vacation more. BUT when we go we drive. Flying is cost prohibitive but also I can't imagine trying to fly with enough stuff for a family of 5 while everyone is still to young to help tote stuff (without major complaining).
4.
What is your idea of "spring cleaning"?
Hmmm...I usually get a mild spring cleaning bug. It usually involved opening up the house and putting away the winter gear. Then I usually fizzle out and am overcome with the desire to be out in the nice weather rather than inside cleaning!
5.
What is the best book you have ever read?
Wow. To pick just one. I feel like I SHOULD say the Bible, it's message has definitely changed my life but honestly I am a horrible Bible readers. I have sections I can read again and again but many more that I never really make it through at all. There are many books I loved from back in high school (I spent much of my summers reading) like Flowers in the Attic and all of RL Stine's books (preGooseBumps). But the latest book that I read and loved holds extra special meaning for me because my mom lent me her copy and insisted I read it and that was The Secret Life of Bees
. I'm not sure what happened to her copy but one of these days I need to pick up my own copy of it. I just recently watched the movie and while, as it goes with many books turned movie
, I didn't think it was AS good as the book, it was still a good movie.