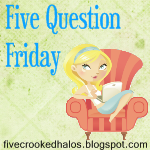 Okay, let's get this Five Question Friday show on the road!! Click the image above to join in the Friday fun.
1.
Can you drive a stick shift?
Nope, I have never even attempted to learn. And I hope I never have to!
2.
What are two foods you just can't eat?
Oh that list is LONG. I can't eat a lot of vegetables or any kind of melon. I don't do any kind of fish with eyes still intact. And eating the actual eye balls of an animal, say a pig at a pig roast, I can't even WATCH someone do that.
3.
Do you buy Girl Scout Cookies? What is your favorite kind?
Yes. I used to buy them buy the case so they'd last until the following year but since they now have ones in the store that are close enough to the real deal, I buy just enough to support Girl Scouts I know personally. My favorite are the Carmel Delights, Peanut Butter Patties and Thin Mints (in that order). But there are some new ones, the lemon one and something else I can't remember that are pretty freaking awesome too.
4.
How do you pamper yourself?
I don't usually but it just so happens that last night I went to a SassyMomsInTheCity event where I got my nails done and a chair massage. And in 2 weeks I'm going BY MYSELF for an overnight stay at a hotel and spa and getting a massage and hair treatment. Usually my "big" splurge is letting my friend cut and color my hair!
5.
What is your nickname and how did you get it?
I don't really have a nickname. I was always "Princess" to my mom, even as an adult. And my father has always called me Lis (like lease) or Lisa Lis. Back in the day kids would call me Lisa Lisa and ask where the Cult Jam was, but since no one's heard of them in a long time I haven't been asked that in years. I also had a few teachers call me Ted, because my last name was Nugent. But these days I mostly go by Mom!