Today I'm cutting out of work a little early to make it to an early showing of The Wimpy Kid, Rodrick Rules. We've read all the books and the boys loved the first movie so I expect we'll enjoy this one as well. But I still enjoy checking out other reviews before going to see a movie and found this one especially interesting. Check it out!
~~~~~~~~~~~~~~~~~~~~~~~~~~~~~~~~~
AT THE MOVIES
with Vordak the Incomprehensible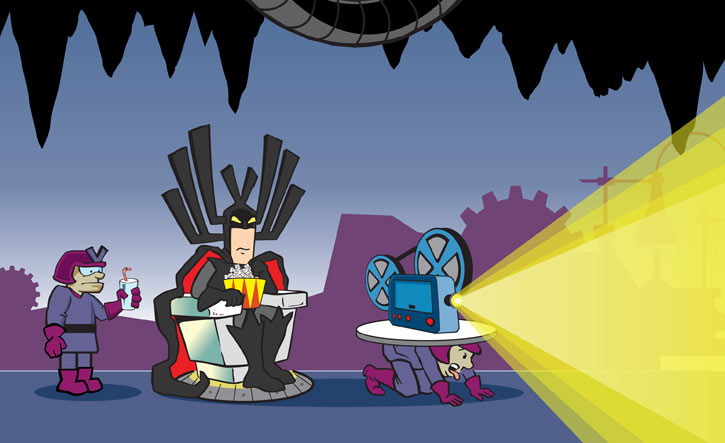 Diary of a Wimpy Kid: Rodrick Rules
"STUPENDOUS!" "DAZZLING!" "BRILLIANT!" "SENSATIONAL!"
I am, of course, talking about me, Vordak the Incomprehensible! And now to the movie…
Let me begin by admitting that I was tricked into seeing this film. Based upon the title, I naturally assumed this would be the story of evil Rodrick's quest to conquer and Rule the World – a concept I am quite familiar with. No such luck. Those malevolent marketing mavens at 20th Century Fox deliberately misled me in order to increase viewership among the coveted Supervillain demographic. Nevertheless, as the possessor of a superior intellect, I have deigned to share my pulse-pounding perspective on the movie with the undeserving ranks of humanity.
I have thousands of thrilling theatrical thoughts bursting from my bombastically brilliant brain, so I have decided to break the film down into smaller segments to better analyze the ebb and flow of the action:
1st second: Started a bit slow, but picked up toward the end
2nd second: Interesting and visually stimulating
3rd second: Disappointing. Failed to build upon the momentum created by the previous second
4th second: All right, I'm beginning to tire of this concept
I think what I'll do instead is offer a brief synopsis of the picture and then list its overriding good and bad points.
Synopsis
Rodrick Rules, starring Angela Moore as Convenience Store Customer #3, tells the story of two brothers who don't get along with each other. Then they do. Then they don't. Then they do. Also, a kid sits on a pizza. And there is a mother who dances like a pelican in a duffle bag.
The Good
Although I was initially disappointed that Rodrick was an ordinary human boy and not a Supervillain, I was greatly pleased to discover that he was an extremely evil ordinary human boy.
The film's "hero", Rodrick's wimpy brother Greg, lives a bumbling, humiliating existence filled with constant embarrassment and tremendous disappointment. Now that's entertainment!
The Bad
The large popcorn and soda combo cost $13.75. $13.75!
There was a pronounced lack of capes.
I found many segments of the film to be juvenile and undignified, with the notable exception of the "rubber throw up" scene, which was pure cinematic genius!
Of course, the biggest "bad" involved the eventual metamorphosis of Evil Brother Rodrick into Lovable Brother Rodrick. WHY, WHY, WHY?! I ask you, "WHY?!" What is Tinseltown thinking? Hollywood is overflowing with evil types. I should know—that's where I go to procure my henchmen. So why the insipid insistence on Good always winning out over Evil? Is this really the message we want to be sending our youth? Great Gassy Goblins, it's enough to make me want to have my own legendary life story immortalized on film (are you paying attention, Mr. Spielberg?)
Although the movie is considered a comedy, I found it was not nearly as funny as either Titanic or Old Yeller. However, after carefully considering all of its pertinent elements, I am bestowing upon this film a rating of 14 SKULLS, although I haven't yet decided what that's out of.
And, although I expect Rodrick Rules to draw plenty of young viewers, if they ever decided to make it into a book, I doubt it would sell more than five or six copies.

Vordak the Incomprehensible
is a world-class Supervillain and the Evil Master of all he surveys. His first book, Vordak the Incomprehensible: How to Grow Up and Rule the World has inspired a whole new generation of minions and fiends. He is at work on his next awe-inspiring project, Vordak the Incomprehensible: Rule the School, which will be launched upon the unsuspecting multitudes in August 2011. His current whereabouts are unknown (and no, they are not in his parents' basement in Trenton, New Jersey). You are hereby instructed to visit Vordak online at
www.vordak.com
, and he will know if you don't, so beware.