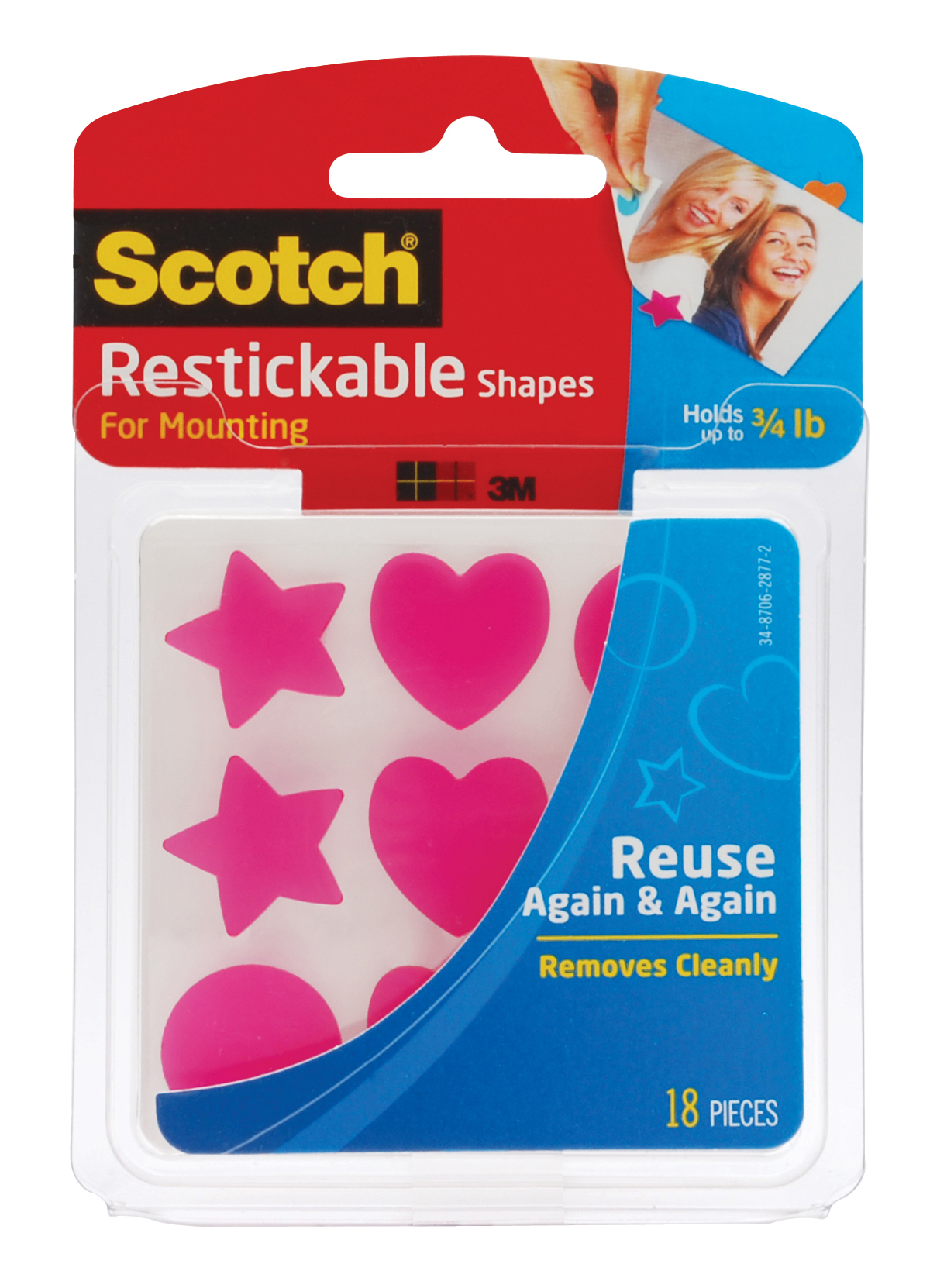 If you have kids, you probably have art work. And if your house is anything like mine you might have had to hide the tape to keep your kids from using entire rolls or tape to plaster up one drawing to the wall. I mean, this NEVER happens in my house. But if it DID...well I might suggest that the creator of
Scotch Restickable Shapes
deserves a big ole sloppy kiss. Seriously, as a frugal mom, I often scoff at this type of product but after getting try them and fall in love, I would highly recommend them for any household with a budding artist. The way we are using them in our house basically has turned any area (wall/door/etc) we want into a place with the flexibiliy of what used to be limited to the fridge. These shapes stick well and easily, even for the kids to do themselves but more than that they can be removed and reused. Now they kids can hang up anything they want without it being ruined if we want to take it down to put something new up.
Scotch® Restickable Shapes are perfect for hanging your photos, papers, and lightweight items with fun, restickable shapes. Shapes come in pink, blue, and orange versions.

Reuse Again and Again
Removes Cleanly
Washable
Photo Safe and made in the USA
They boys decorated their bedroom door. They are seriously in love with the shapes and the fact that it means I will let them have an 'art gallery' on their door that they can be in charge of!
And while the kids were falling in love with the shapes...I quietly snuck away with the strips. I took them to my office. I have a cabinet above my desk where I have taped up photos of the boys and some of the art they have made when they've visited the office.
I will now be using Scotch® Restickable Strips for that job from now on. I used it to add a new postcard I had just picked up to my display. Check it out below.
Scotch® Restickable Strips
are pre-cut strips of clear, reusable and removable adhesive for lightweight mounting. Hang photos, posters, artwork or other lightweight objects on walls, refrigerators, windows, and most other flat surfaces. Strips can be cut.



Reuse again and again.
Removes cleanly.
Use instead of magnets and tacks.
I removed on piece from the sheet and stuck it to the post card.
Removed the backing. Repeated on all corners
Then stuck it up in a spot that was just calling its name. Then I left it there for the day...
And just to check and see if it'd really remove without damage to the anything...I removed it. First taking it off the wood...no marks and no stickiness at all.
Then I removed the strip from the postcard itself. It pulled off easily and cleanly. This is the perfect solution to hanging up on framed photos or art work without damaging it. I am seriously in love!
I then proceeded to use half the package using it to restick photos that were curling at the corners etc on my cabinet!
I wrote this review while participating in a campaign by Mom Central Consulting on behalf of Scotch and received a promotional item for review purposes and to thank me for taking the time to participate.