We had yet another jam packed weekend! We did some type of fall
activity
every day this weekend...but it only resembled fall on Friday night. The rest of the weekend, I was pretty darn hot, really.
But here's the low down:
Thursday night we had dinner at "
Gramma
&
Grampa
Nugent's
." They usually come over to our house but earlier Thursday my aunt from FL arrived. And when we arrived we were surprised to learn that my brother had made it home for the long weekend from college also. They boys had a blast playing with
Gramma's
pumpkin's on the lazy Susan on their patio table, sitting around the fire pit and talking every one's ear off.
Friday Timmy got out of school early. After picking him up we had a few errands to run and then right around 3pm we headed north to
Cedarburg
, WI. The reason my aunt was in town was for an arts festival in
Cedarburg
where many of her hand painted scarves were featured. Just occurred to me I really should have taken some photos of her work. They were so cool. But sine I'd look a little odd where a gorgeous silk scarf with my over sized T-shirt, jeans and flip flops, I passed on getting one. But we did buy one of her friend's water color painting which I need to get a photo of. Its so pretty. While we were there we hung out for a bit in the Bed & Breakfast, owned by another of my aunt's friends, which is where their work was being displayed. Then walked a round a bit and had dinner. I took some photos by a cool church. And before we knew it was time to make the trip home.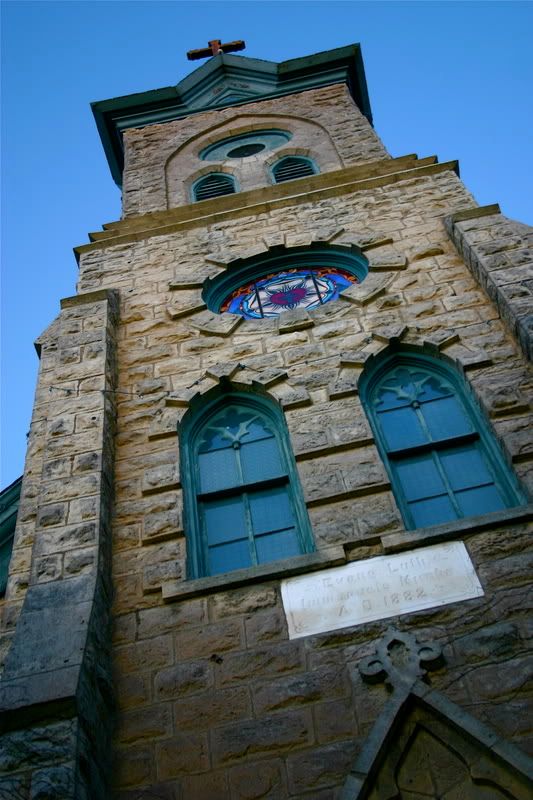 Saturday, Timmy and Johnny and I headed to a friend's house where I shot some family photos and her and her adorable kids. (Sorry Jordan, adorable probably isn't an acceptable word for someone your age, adorable daughter and handsome son.) Then we all went to a fall festival in their town together. But man it did NOT feel like fall. But it was fun none the less. The kids enjoyed a free bounce house. A 'treasure hunt' in a hay stack for candy and coins. A few misc games and then a pumpkin roll. They also had a wiener dog race but we weren't really able to see that too well. But I of course have a bunch of photos and hope to have them up soon.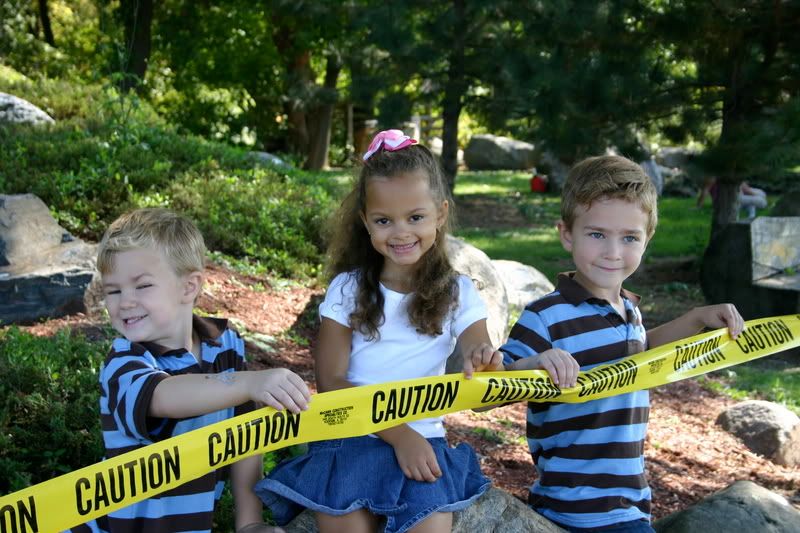 Sunday we went to church and then headed to
Stade's
Farm in
McHenry
. That was so much fun. I have a ton of great photos but if you're in my area let me just say I highly recommend this pumpkin farm. The coolest thing for the kids I think was a play are filled with corn. And the best part for my BIG kid was the pumpkin cannon! They also have...pony rides, inflatables, combine rides, corn cannons that you can shoot, barrel train ride, pedal cars, petting zoo, a huge hay bail mountain to climb on, a few games, music and of course pumpkins! I'll try to get pics up asap!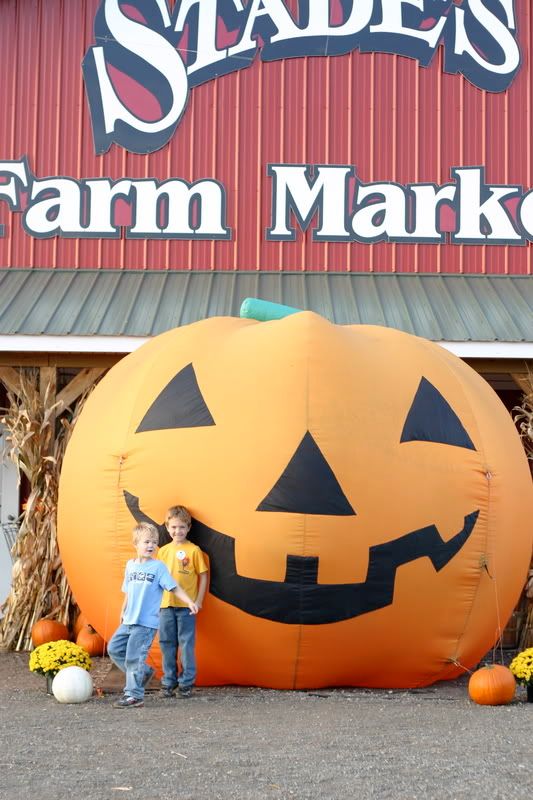 Corn filled play area: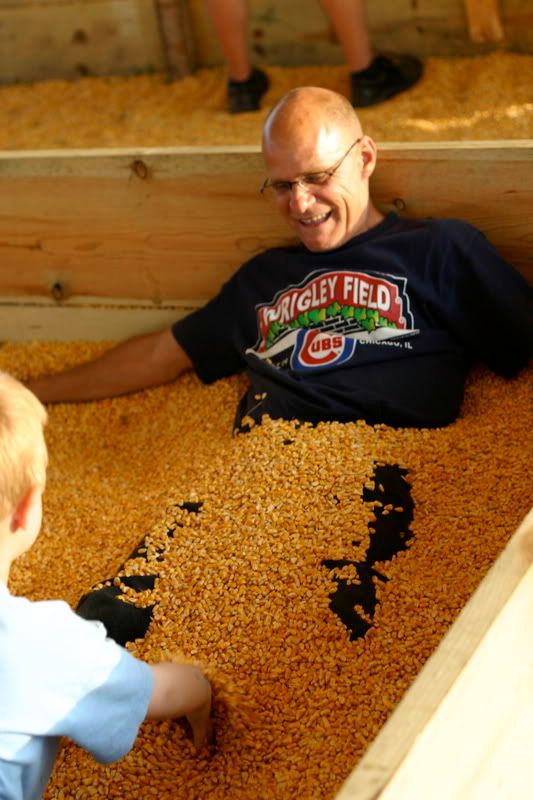 Pumpkin canon: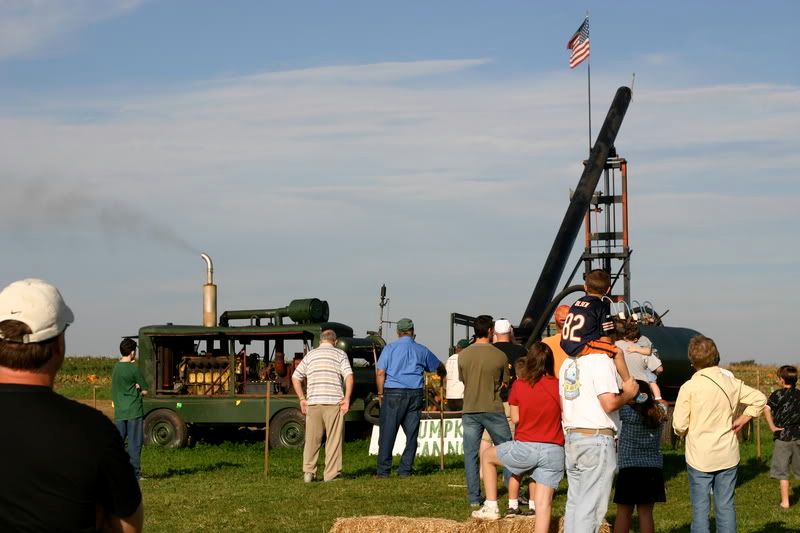 The combine you can ride:
The corn cannons: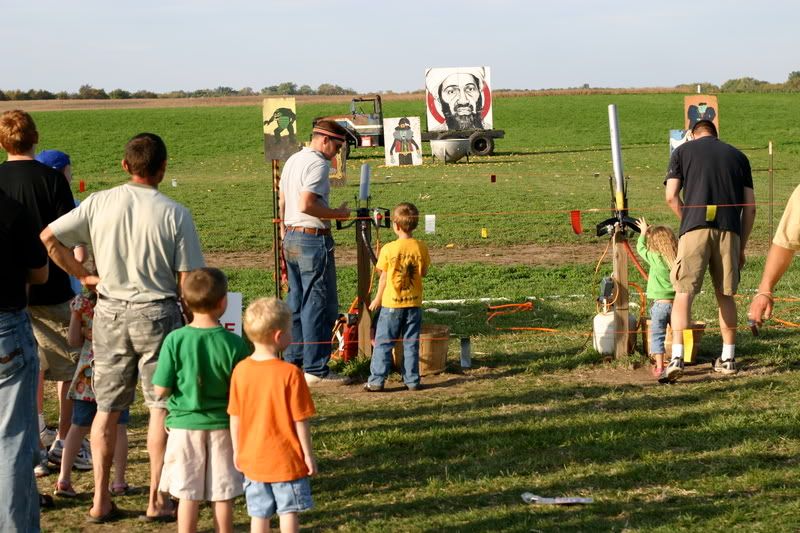 Before the canons...not a sound appreciated by babies! (didn't take an after but trust me, he FREAKED!)
The Barrel Trail: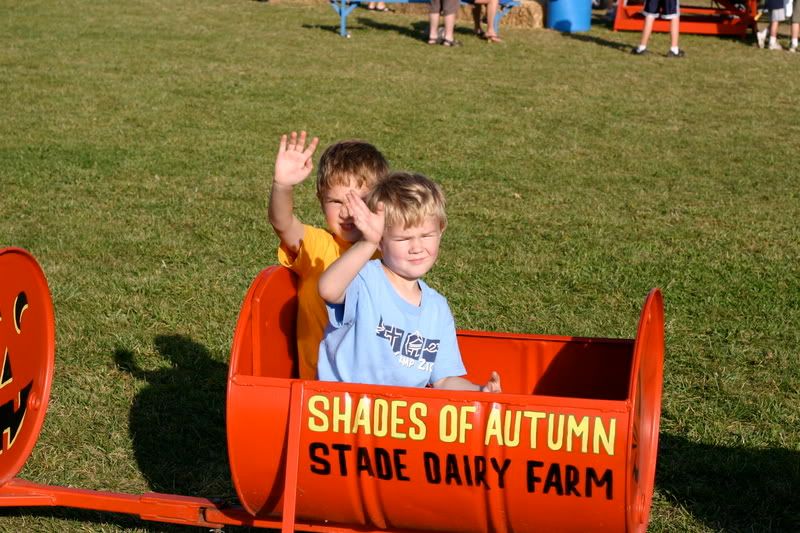 The pedal cars: