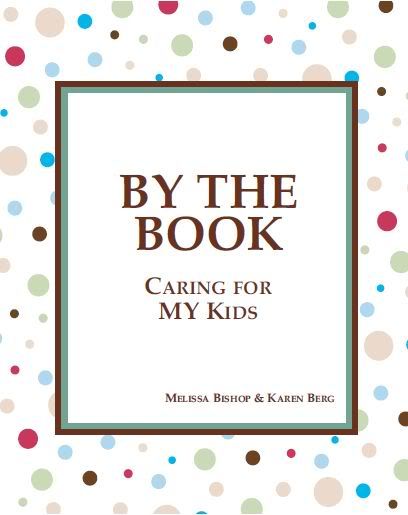 Do you get out regularly for dates with your spouse? Ok, yay me neither! I wish I did but its just not in the cards for us right now. We seem to get out about...once a year. But on that one day we end up spending a ton of time explaining routines, rituals and rules to a completely competent but likely overwhelmed sitter. More than once we've fielded calls, not because an child is hurt or inconsolable, but typically because the sitter can not navigate the sea of remotes we have to start a dvd for the kids. Whether you have one or one dozen kids there just so much to remember to tell a sitter while also tryig to fend of meltdowns because you're leaving and attempting to keep your clothes free from snot or spit-up.
But Karen Berg and Melissa Bishop of
Karmel Publishing
have developed an amazing solution. Whether you get out regularly or annually, leave your kids with dad, grandparents or a neighbor and whether your kids are infants or older, this book is the perfect thing for every family.

They have created an amazing fill in the blank book that covers all the info that anyone should need to care for your kids (and even your furry kids). Everything from kids likes and dislikes to the hopefully never needed emergency information can be filled in, organized, updated and kept easily accessible. While you'll need to spend some time with it upfront to get all the info into the book, it will save a ton of time as you try to rush (or sneak) out the door. And although my husband is now home full time with the kids I remember a time when this wasn't the case. And I know many other father like this who don't know all the favorites or the bedtime routines. This book could be a perfect thing for them as well. No promises from me that you'll actually get them to look at it. I think it may fall in the "directions" category and we all know how they are about directions. But given a major meltdown even the toughest dad might give in and take a peek!
And last but certainly not least. A section you'll likely want to store in a separate, but equally important binder is the section for you, the parents, to keep/manage information on different sitters. You can record their contact info and other stats like whether they have their own car etc. And if you're looking for a new sitter or nanny they've even provided interview questions for you!
Think this sounds like something you could use?
Well you're in luck! The wonderful ladies of Karmel, have offered one free eBook version of By The Book for one of my readers.
To enter this giveaway, you'll need to visit
Karmel Publishing
and then come back and leave me a comment sharing which section sounds like the most useful in your house.
For additional entries, only after you've done the first required entry, you may do any of the following.  Be sure to leave a
separate comment
for each one.
follow my blog
subscribe VIA EMAIL
add my button to your own blog (leave a link to your blog)
follow me on twitter (leave your twitter id)
blog about this giveaway  for TWO entries,leave 2 comments (be sure to leave the link to your post) 
tweet about this giveaway. can tweet once a day for an extra entry (be sure to leave link)
Again you MUST have a contact email visible on your blogger profile or leave your email in your comment.  If this is not done another winner is selected and I have unfortunately been running into this a lot.  Please please be sure that I can contact you via email!!!!
Winner will be selected on April 29th.