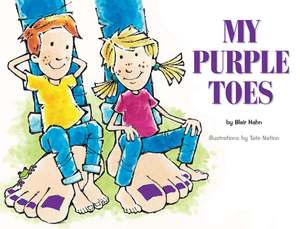 A great little board book about having fun, being you and simply not worrying about what others think while you do so. My boys were a little confused at first, as to who exactly it was that had purple toes. Then they just thought it was SOOO silly. But it opened up the chance for us to talk about this idea of being themselves without so much worry. At some point along the way since I've been a mom of boys, someone (I honestly don't recall who) told me how life with boys would be easier. They insisted there'd be much less drama because male relationships are simply easier etc. Boy, were they wrong. With just a First and Second Grader this year we've already experienced a whole gamut of issues with friendships, being accepted etc. And the biggest thing I learned about my oldest son last school year was that he will do, not do or take just about any mistreatment to simply be accepted. Over the last year, we've also seen that fear often stops him from doing stuff, opening up and just being silly. So this book is perfect for us!
Add to that, the fact that it helps support an organization, Soles4Souls, that I have
worked with
a friend to support back in January of this year, and it's a double winner for me.
Children's Book Author Blair Hahn Unveils Creative Board Book -- My Purple Toes -- and Dedicates a Portion of Its Proceeds to Benefit Nonprofit, Soles4Souls

CHARLESTON, SC--(Marketwire - July 20, 2010) - People come in all sorts of shapes and sizes, which is what makes life interesting and fun. Inspired by a trip to a nail salon with his teenage daughter, first time author Blair Hahn is pleased to introduce
My Purple Toes
,
a creative children's board book that tells a true account of a father's experience navigating life with purple painted toenails. Written for children between the ages of one and five,
My Purple Toes
teaches a simple yet relevant lesson about the importance of enjoying life, being yourself and accepting others. A significant portion of the book's proceeds will benefit
Soles4Souls
, a charity that provides shoes to persons in need.
Throughout the book, children can look for dad's purple toes in various environments and also find a friendly frog that hides on each page.
My Purple Toes
features imaginative, cheerful illustrations from Charleston-based artist Tate Nation on a board-style book that offers durability ideal for young children.
"The idea for
My Purple Toes
all started with a trip to a nail salon with my daughter who I astonished when I boldly offered to get my toenails painted purple, and through this experience, I found a few simple light-hearted lessons that I wanted to share with children everywhere," said children's author, Blair Hahn. "Furthermore, the launch of
My Purple Toes
has created a unique opportunity to give back to children in need, and we look forward to donating to Soles4Souls in support of its worthy cause."
The author's story and his inspiration for the book are depicted in the book's introduction as well as on the
book website
, which also includes learning lessons, tips for parents interested in throwing a "Purple Party" around
My Purple Toes,
and information about the book's charitable donation. Soles4Souls is a nonprofit organization that collects and distributes shoes to people in need worldwide, and since 2005, it has provided more than 10 million pairs of shoes to people in need.
"It's an honor to be partnering with author Blair Hahn on behalf of his new children's book,
My Purple Toes
," said Wayne Elsey, founder & CEO of Soles4Souls. "His simple life lessons about being accepting of all people and living life to its fullest are a spirit we share at Soles4Souls, and we greatly appreciate Blair's generous donation to our organization, as we seek to fulfill thousands of requests for shoes from people around the world."
About Soles4Souls

Soles4Souls is a Nashville-based charity that collects shoes from the warehouses of footwear companies and closets of people like you. The charity distributes these shoes free of charge to people in need, regardless of race, religion, class, or any other criteria. Since 2005, Soles4Souls has given away over 10 million pairs of new and gently worn shoes and is currently donating one pair every 9 seconds. The shoes have been distributed to people in over 125 countries, including Kenya, Thailand, Nepal and the United States. Learn more at
http://www.soles4souls.org
.
Win a copy of My Purple Toes!!
Required Entry:
Simply leave a comment sharing who you would want to win this book for and why.
Additional entries: (Extra entries are only valid after completing the required entry. Be sure to leave a separate comment for each entry)
~Follow me publicly on google friend connect - 1 entry
~Subscribe by email (must activate) - 2 entries
~Tweet the giveaway- may be done once daily, include @lisanoel03 and a link to this post - 1 entry (leave direct url to tweet
~Post my button on your blog (make sure it's my NEW button) - 2 entries
~Blog about the giveaway - 3 entries (leave link and 3 comments)
~Enter any of my other current giveaways (listed at the top of my page) - 1 entry per giveaway



**Winner will be added to this post when selected**


Please be sure that I have a way to contact you either with a email available on your blogger account or leave your email in your comment. If I can not contact you via email, or you do not respond with in approx. 48 hours to my email, I have to pick a new winner. And I really hate doing that!

Disclosure:

The product(s) featured in this review was provided free of cost to me for the sole purpose of product testing and review. This review has not been monetarily compensated and is based on the views and opinions of my family and/or self. Please note that the opinions reflected in this post have not been influenced by the sponsor in any way.