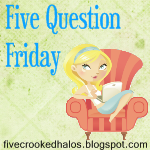 Okay, let's get this Five Question Friday show on the road!! Click the image above to join in the Friday fun.
Questions for Friday, March 18
th
:
Questions for Friday, March 18
th
: (Special thanks to
@
joleneslavik
,
@
sarahruch
,
@
HeartHunnyBe
,
Pam
, and Colleen for their question suggestions! If you would like to be linked in a future 5
QF
, come over to
my community
and offer up your best question suggestions! And please do...things are getting slim over there! Shouting them out on twitter is fine, too!
@5
crookedhalos
)
1. Have you ever testified in court? For what?
I have never testified. But I've spent MANY hours in a courtroom. My father was a police officer and there were more than a few times when I was little that I sat for several hours with him waiting for HIM to testify on a day that would have otherwise been his day off.
2. Do you still have your wedding dress?
Nope. I took it to the cleaners to have it handled before we moved and totally forgot about it in the chaos of moving and then being home full time etc. By the time I remembered it, they'd done whatever they do with unclaimed stuff. Since I had moved they didn't have the correct contact number. I'm not sure what I'd have done with it anyway.
3. Is there a special place you like to go when you're happy, sad, stressed, etc.?
I special place, like mentally? Or a real place? I like to use retail therapy but our budget has deemed this as a very rare occurrence or it has to be done a la dollar store. Other than that, I usually escape with TV, movies, music or blogging not physically escape.
4. If you have kids, do they sleep with you? If you don't have kids...will you let your kids sleep with you when/if you have them?
I have no kids currently sleeping with me except for cases of illness or a very rare bad night. My first two never coslept but Bryan did until he was almost two. I love the bond it created but it also meant 2 years of interrupted sleep. I think I'd still do it again if I had the chance.
5.
Do you watch late night TV?
I watch TV late at night, but I don't watch shows typically deemed 'late night tv' like Jay Leno or Conan. I will very rarely watch Jay for a bit if it comes on and I'm too lazy to change the channel but I'll hop up for Conan cuz that man annoys me.