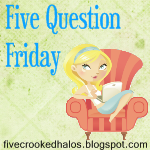 Okay, let's get this Five Question Friday show on the road!! Click the image above to join in the Friday fun.
Questions for Friday, March 4
th
:
1. H
ave you ever forgotten your child in a store or at school?
I have not yet forgotten my child anywhere yet. I did once forget that Wednesday was early release but my kids have an after school activity so when I pulled up and no one was around (compared to a normal school day at that time) I panicked. Went flying into the school realizing I was an hour late to get them but forgetting I was 15 minutes early for when they got out of the activity...I felt dumb. My husband DID forget the boys at school on Wednesday a couple times when they didn't have their after school stuff and a neighbor brought them home thankfully.
2.
Where did you go on your very first date? (Like...first first, not first with your spouse or current significant other!)
My first date was a blind date and was supposed to be to a school dance but when my friend who was supposed to go with us as a double date got in trouble and couldn't go we ended up doing just dinner and a movie. And I ended up dating the guy for several years.
3.
What's your "silly" fear?
(We're not talking water and heights.)
Does thunderstorms count as silly? I have gotten much better for the simple fact of not wanting to freak my own kids out but I am NOT a fan of thunderstorms at all.
4.
Confrontation: do you cause it, deal with is as it comes, or run far far away?
I'm so NOT confrontational. Although email/internet helps me have a little bit better of a voice face to face, I totally run!!
5.
Wood floors or carpet?
Well I have mostly wood, or fake wood. And I used to like it but now I really wish we had carpet for some noise absorption. I can be driven insane with building blocks on the floor when they are really doing nothing wrong.