Original Style Bra Liner
The Original Style is where it all began years ago (1990).
A soft cotton liner worn in your bra, Pambra's absorbs perspiration under and between the breasts. Pambra's also adds comfort to that cute little under wire bra that isn't always so comfortable.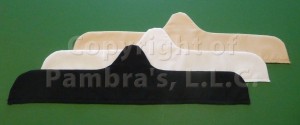 So, toss out the powders, rags and mini pads so many have resorted to. It is our unique blend of fabric and cotton that absorbs moisture and keeps it away from the skin. Doctor tested and approved, Pambra's virtually eliminates the threat of fungus, and prevents heat rash from developing.
Pambra's have no pins, hooks, or tapes; the liners have been proven to stay in place with a properly fitted bra. (A properly fitted bra has no more than two fingers space to pull away from the body.)
Pambra's are sold in packages of three, one color per package, and are machine washable and dryer safe.
Full Line of Pambra's Products
My Thoughts:
There are a lot of products on the market that have made me pause and question, "Why didn't I think of this?" But upon seeing Pambra's my thought was, "Why didn't my MOM even think of these?" I spent years giggling at my mom as she'd remove wadded up tissues from her bra at the end of a day. Apparently the ladies in our family have very healthy sweat glands. We sweat..a lot! And while I didn't fully understand her struggle early on, these days I am fully aware of what she was fighting off with her little secret tissues. This might be too much information for some but it is a fairly regular occurrence that I have to hang my bra to dry before I can even toss it into the laundry basket. In addition to feeling gross and causing constant washings of pricey delicate items this sweat can lead to uncomfortable chaffing and even lead to more serious conditions. But I seriously think that had I had the chance to get Pambra's for my mom she would have been ecstatic. I have to admit I never really used my moms tissue remedy because with my luck I'd drop sweaty little tissue bombs at the most inopportune time. But I do LOVE how Pambra's work. It took me a little getting used to, to get them in and with my super cheapo bras (the kind that ride WAY up in the back because they have literally ZERO support in the front) I am not able to use them effectively. But with a proper bra and a minute of time, these are great. I personally HATE under-wires and really only wear them on the nicest of occasions but Pambra's made a HUGE difference in the comfort in even my most comfortable under-wire. I considered sharing photos of their ABSORPTION, but sorry, I'm not feeling that self-deprocating. You will have to trust me in that they are super soft and absorbent.
Required Entry:
Visit
Pambra's
and come back and leave a comment sharing which item size and color you would chose if you won.
Additional entries: (Extra entries are only valid after completing the required entry. Be sure to leave a separate comment for each entry)
~Follow me publicly on google friend connect (at bottom of page) - 1 entry
~Subscribe by email (must activate) - 1 entry
~Tweet the giveaway- may be done once daily, include @lisanoel03 and a link to this post - 1 entry (leave direct url to tweet
~Post my button on your blog (make sure it's my NEW button) - 2 entries
~Blog about the giveaway - 3 entries (leave link and 3 comments)
~Enter any of my other current giveaways (listed at the top of my page) - 1 entry per giveaway

PLEASE NOTE: I will do my best to mediate any problems in delivery of giveaway prizes with the sponsor, and I do my best only to represent companies I trust, however I am not personally responsible for any prizes which are not received for delivery or any other reasons.




**Winner will be added to this post when selected**


Please be sure that I have a way to contact you either with a email available on your blogger account or leave your email in your comment. If I can not contact you via email, or you do not respond with in approx. 48 hours to my email, I have to pick a new winner. And I really hate doing that!
Disclosure:

The product(s) featured in this review was provided free of cost to me for the sole purpose of product testing and review. This review has not been monetarily compensated and is based on the views and opinions of my family and/or self. Please note that the opinions reflected in this post have not been influenced by the sponsor in any way.