Weird But True App Description
Did you know that girls have more taste buds than boys do? Or that slugs have 3,000 teeth and 4 noses? And who knew that gorillas burp when they're happy? Get more than 300 Weird But True kid-friendly facts with the new interactive app from National Geographic Kids!
Find it on iTunes here!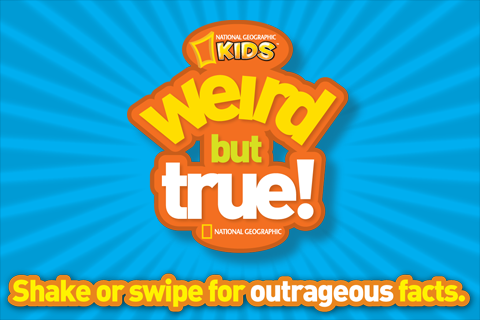 My Thoughts:
This is a fun app for curious kids like I have. They have some interesting facts. Some gross things, which my boys loved. And general silliness. The only thing I didn't love and maybe there is a way to change this but neither my kids or I have figured it out but you always start back at the first fact and have to flip through to get to the new ones. Other than that it is a great thing to have when we are somewhere waiting with time to kill. Be warned though, if your kids are like mine, they may get some serious giggles at some of these so keep that in mind if you are somewhere where they need to stay quiet.
Disclosure: I received a complimentary copy of this app for review purposes. All opinions expressed are my own honest personal feedback.