It's time again for Five Question Friday from
My Little Life
, join the fun, head over to this week's post
here
.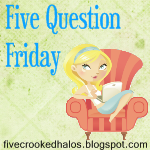 1.
What movie could you watch over and over again and not get tired of?
I have a long list of movies I could, and do, watch again and again. First pretty much anything from Disney or Pixar some at my kids request but most I truly enjoy myself. Then there's the 80s classics, Sixteen Candles
, Breakfast Club
, Pretty In Pink
etc etc. Then there's the Tom Cruise collection (most everything he did in the early years, ie precouch jumping on the Oprah show) but he best being Top Gun
and Cocktail
. Most of Adam Sandlers movies but Billy Madison
and Big Daddy
being my fave funnies ones and Spanglish
being the one that made me fall in love with him. And Pretty Woman
, Steel Magnolias
and My Girl
are all regular watches too.
2.
What's your biggest pet peeve right now?
Right now my biggest pet peeve is now and ice because I'm wearing this air cast and it's cold when I get snow in it and I'm totally nervous about falling again. But in general, my pet peeves with people are about rudeness.
3.
If you had to describe your best friend in five words or less, what would you say?
Thoughtful, Dedicated, Fun, Amazing, Orderly

(that last one makes me laugh out loud because we are sort of the odd couple and I'm the not so neat one)
4. I
f you did not have to worry about money or go to school what would you do for a living?
If money weren't an issue, I would stay home full time with my kids and do volunteer work for causes I'm passionate about!
5. What is your one "splurge" item, that you will always buy, no matter the cos
t?
Honestly I splurge very little on myself. The one thing I end up spending more on then I should is usually food related, ie going out to eat!